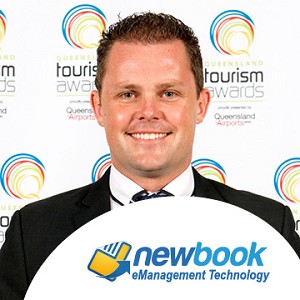 Bradley Illich
NewBook eManagement Technology Learn how leading international holiday parks are innovating and growing.
About Bradley Illich
Bradley is a leading figure in the Australian and New Zealand holiday park and tourism industries and has won many awards for entrepreneurialism, innovation, business and tourism. His company NewBook services over 650 leading holiday park and accommodation providers internationally and is growing rapidly. Born to a family of holiday park operators, Bradley's journey started at a young age in the family business and later in running his own successful B2B IT services company for parks. After many years of frustration of not being able to find an innovative and reliable reservation system for his clients, Bradley decided to start a second company to do just that and in 2010 NewBook was born.

Bradley achieved the Young Achiever of the Year Award in 2014, later succeeded in 2015 by Bindi Irwin. In 2015 he won the Future Leaders Award for the Caravan Industry Association of Australia and in September won the 2016 Innovation in Tourism Award.

Bradley will share his experiences and success stories in working with hundreds of leading holiday park operators in Australia and New Zealand and reveal which tools have led to major increases in revenue, reduction in costs and in-turn boosted their profitability.