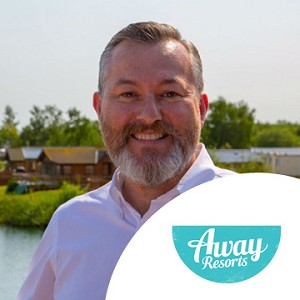 About Carl Castledine
Carl Castledine is CEO of Away Resorts, a unique operator of holiday parks. The parks are located at five sites - Whitecliff Bay (Isle of Wight), Mill Rythe (Hampshire), Tattershall Lakes (Lincolnshire), Mersea Island (Essex) and Barmouth Bay (Snowdonia National Park). All provide a range of high quality accommodation choices from luxury holiday lodges and cottages with private hot tubs to camping facilities.

The business was founded in 2008 by Carl, along with Neill Ryder (Finance Director) and Greg Lashley (Operations Director). Based in Hemel Hempstead, the business has successfully grown sales to more than £30million, positioning the business with a solid foundation for growth.

Carl is a third generation holiday park operator, who has worked for Bourne Leisure and Park Resorts the UK's largest holiday park businesses, in various management and Director roles prior to starting Away Resorts.

A look forward to how consumer demographics are changing and how this will influence the strategic thrust of holiday parks over the next decade.

The changing landscape is a huge opportunity if embraced but if ignored could render holiday parks irrelevant.