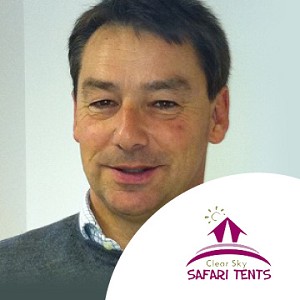 Mark Scott
Clear Sky Safari Tents Insider Info on Getting into Glamping
About Mark Scott
Company Director Mark Scott has over 20 years experience in the UK Holiday industry, specialising in trends and data analysis. Five years ago, this insight lead Mark to spot the growing trend towards a ''back to nature'' experience but with the little luxuries that make it a holiday – glamping in other words! But having looked for a good UK supplier, he found the costs, delivery times and flexibility on offer was far from ideal. Extensive research found that by bringing together the best manufacturers in Europe, the highest quality tents could be offered at prices and delivery times much preferable to that available in the UK – and so Clear Sky Safari Tents was born! Now the major operator in the industry with clients from big Caravan Parks like Haven and Park Resorts to retailers such as John Lewis, adventure holiday experts like Kingswood and a multitude of farmers, landowners, and campsites.

As well as selling tents, Mark runs his own glamping site on his farm in Kent.
If you''re thinking about setting up a glamping business this is a must. Mark will take you through everything from planning permission and where to locate your safari tents to marketing and websites. More than that you''ll get top tips on how to give your site the edge - from rooms with a view to sheds with a loo, we'll look at what guests want from their glamping experience and how you can stay a step ahead.