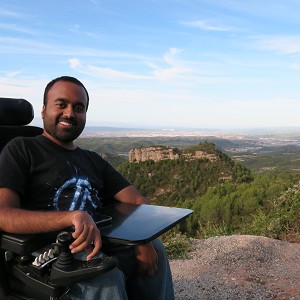 About Srin Madipalli & Ed Warner
Srin is the CEO and co-founder of Accomable, a rapidly growing technology platform to help the elderly and the disabled find accessible travel and accommodation solutions around the world. Founded in 2015, the company has gone on to raise funding from top tier technology investors in London and has been widely featured in major press publications around the world. Srin is a self-taught coder who was originally Accomable's main developer.

Srin was previously a corporate lawyer who has degrees from Kings College London and the University of Oxford.


Ed Warner founded Motionspot in 2012 to design and supply beautiful, accessible bathrooms for anyone living with a disability. The business was inspired after Co-Founder James Taylor was paralysed in a driving accident in 2005 and returned home to find his adapted flat looking more like a clinical care home full of white plastic grab rails, shower vinyl flooring and other products that were so synonymous with ageing and disability. Motionspot provides an alternative and designs and supplies beautiful washrooms and bathrooms to deliver the necessary access for people without compromising on design. In addition to supplying bathrooms to the residential market, Motionspot is a leading provider of accessible bathrooms and washrooms to hotels and leisure, retirement and care clients across the UK.
This seminar will be an introduction to the rapidly growing accessibility market and how holiday rental owners can adapt their properties to cater for disabled and elderly customers - two fast growing customer segments that are currently undeserved.